Go Back
Great Family Halloween Activities Beyond Trick or Treating
Candy and costumes are great, but there is more than one way to appreciate the Halloween season.
Try these Halloween activities your family can enjoy before and after the one night of trick-or-treating.
Pumpkin (or any produce!) Decorating
Pumpkin decorating is a great activity for fine motor skill development. Carve or paint pumpkins with friends or family! If you have time, you could save the seeds and innards to make toasted pumpkin seeds or bake pumpkin bread later.
Not using pumpkins? No problem! You can also carve and decorate other produce items, such as watermelons, cantaloupes, honeydew melons, or bell peppers!
Corn Mazes
Corn mazes can easily become a fall tradition for your family or close friends. Stay in a group and get lost together weaving through tall rows of fresh corn. Corn mazes are also a great way for kids to exercise problem solving, memory and leadership skills as well. Let children take turns leading the group.
Haunted Houses
Haunted houses can be a ton of fun if you let kids plan and operate their own version. Set rules about props, equipment, and cleaning up afterward and allow kids some free time to create their own "haunted" experience. Let the kids think through the path their visitors will take and space out spooky aspects along the way. If creating a haunted house is too scary for your child you can create a fall fun house displaying pumpkins, scarecrows, and other fall-themed decorations. Gather neighbors and other adults to walk through and enjoy the fun.
Scavenger Hunts
Scavenger hunts can be a great adventure for kids. Get creative and make up a scavenger hunt for your kids. Have a friend or partner hide and be the treasure the clues lead to. Divide into groups so no one is running around outside in the dark alone. If young children are playing, assign each team a grown-up captain.
Werewolf Tag
Werewolf tag is a name for playing hide and seek tag outdoors after dark. There are many names for this simple but fun game. Be sure to establish boundaries before play starts. If younger children are hiding, break into pairs to hide. Once the people hiding have been spotted or suspect they've been found, the chase is on! No one is officially out until they're tagged. Once someone is tagged they join the werewolf so there's more than one seeker. By the end of the game there's a whole pack of werewolves!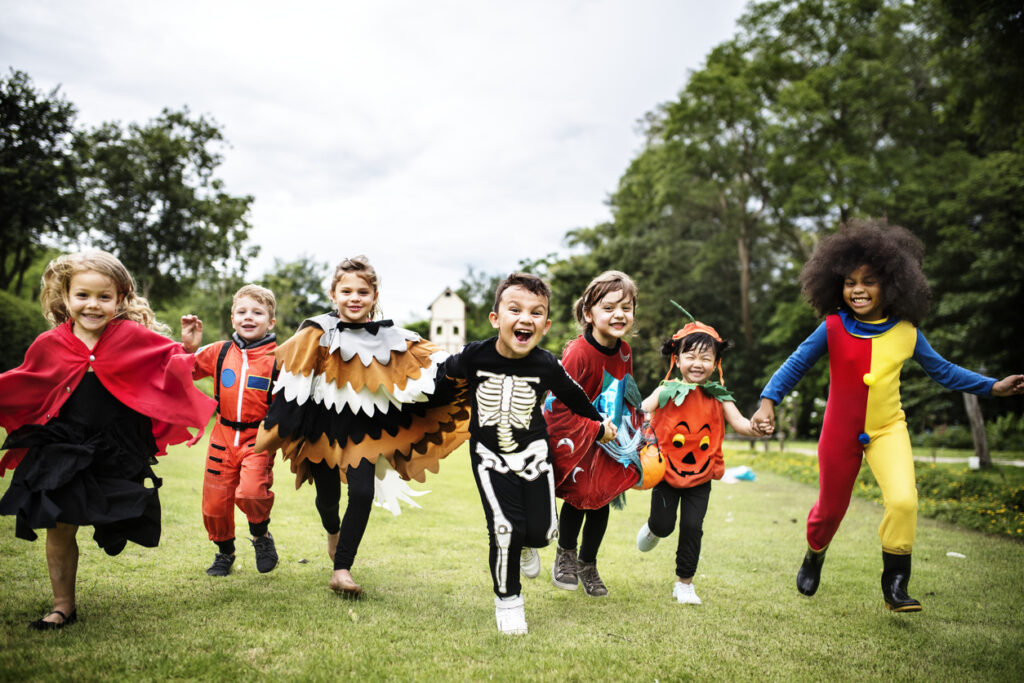 Flashlight Tag
Flashlight tag is a nice alternative if Werewolf tag is a little too scary. Play tag at night, but participants carry flashlights so they can be seen and can see around them.
Lantern Making
Lantern making is a fun crafting idea and a great way to decorate for a party. Simply take some brown or white paper lunch bags and cut fun shapes and designs into them. Put a little bit of sand into the bottom of the bag and place a battery operated candle in the base.
Costume Report
Costume report means doing something like a book report but covering a Halloween costume instead of a single book. If your child is dressing as a famous person or character, help them read and watch information on this person and prepare a little oral report that they can give in class, at show and tell, or for family members. If your child is dressing as an animal or thing, they can do research and prepare a report. Your child can also include why they chose to dress up as this particular character or animal. A presentation like this one will help practice communication skills.
*It's important to modify activities depending on age or ability of your children. Parent supervision is necessary for each activity listed. Talk to your children about safety during the Halloween season in order to ensure everyone has a fun time.