Go Back
Ways to Cure Your Kid's Winter Boredom
Baby, it's cold outside! Not to worry. There's plenty of fun to be had indoors during the coldest months of the year. And it's all in the spirit of your child's development.
These in-home activities can help strengthen both their fine and gross motor skills.
Screen time with things like the TVs, iPads, Xboxs, etc. are unavoidable but that doesn't mean that all your child's free time should be spent on these devices. When it comes to your child's growth, screens can't hold a candle to these wintertime activities.
Check out our tips for limiting kids' screen time:
If You Build It, They Will Play
Think back to your fondest playtime memories in your childhood home. For most, the word "fort" comes to mind pretty quickly. Every child loves turning the couch into a fortress of pillows, cushions, blankets, and whatever else they can get their little hands on. Encourage this gross motor skill developing behavior on a blistery day. Then you can all cuddle together and stay warm in the finished fort.
Another great way to play using furniture and household goods is with a homemade scavenger hunt. Create a list of things for your child to find, as well as small tasks to complete with each item. The act of identifying things while checking them off the list will always lead to laughter and learning.
Bake Some Kitchen Classics
Next time you're trapped inside this winter, warm up the oven and warm up some fun! Baking treats doesn't seem like work to children, who will be eager to help in the process from beginning to (delicious) end.
Start out with baking cookies from scratch, taking the opportunity to teach your child about the ingredients as you add them into the mixture together. While you wait for the cookies in the oven, grab some marshmallows and toothpicks for easy (and tasty) crafting. You can build little snowmen, trees, and houses all out marshmallows!
Once the cookies are done, it's time to decorate them! Let your child practice squeezing out the frosting and sprinkling on the sprinkles. They'll feel great about the finished product because they were apart of creating it.
Don't Forget About Going Outside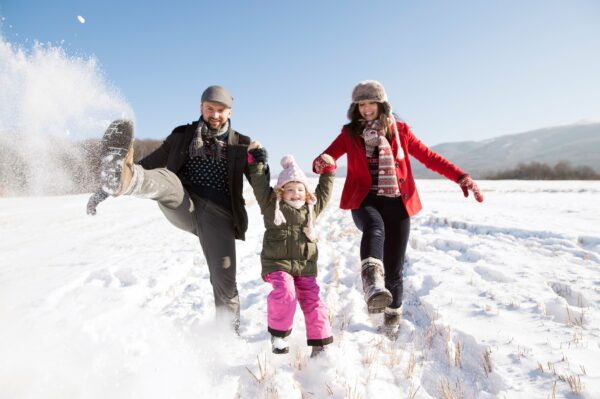 Even though the weather might be a little chilly kids can still play outside. Even if there's snow on the ground, there are plenty of fun outdoor activities. Just make sure they are dressed to battle to cold and there are no weather advisories.
With all of these good times, there's no need for screen time. Keep your children off the game consoles on indoor winter days and they'll discover a whole new world of fun!