Go Back
How Can You Prepare for a Nanny?
There are many reasons that children may need a nanny or other caregiver.
When parents work, go on a trip, or something unexpected comes up, a nanny can watch and take care of them. They can make sure children don't have too many interruptions to their life and have all their needs met, without their parents at home.
But sometimes children can have a hard time adjusting to someone new taking care of them. They may be afraid of strangers, or may not like time away from their parents. Have no fear! There are ways to prepare your little one for adjusting to a new nanny or caregiver. Learn how!
If you have a nanny or other caregiver, share baby's profile with them so they can track baby's milestones. Here's how:
– Click on the menu (you can find the menu by clicking on baby's picture in the top left corner).
– Select Account Profiles & Settings
– Select Add a Caregiver. Enter caregiver information and send them an invite to connect them to your child's profile.


Set up an initial meeting. Once you have hired a nanny or other caregiver, set up a meeting for them to meet your children. This is a great time to do a walkthrough of the house, and introduce them
to their nanny! Try to have this meeting at a separate time from their first stay alone with the children, so kids have time to adjust.
Consider a transition period. If possible, consider having a few days where children are receiving care from the nanny, but you're still in the house. This will allow them to feel more comfortable with the caregiver, while still having you in the other room.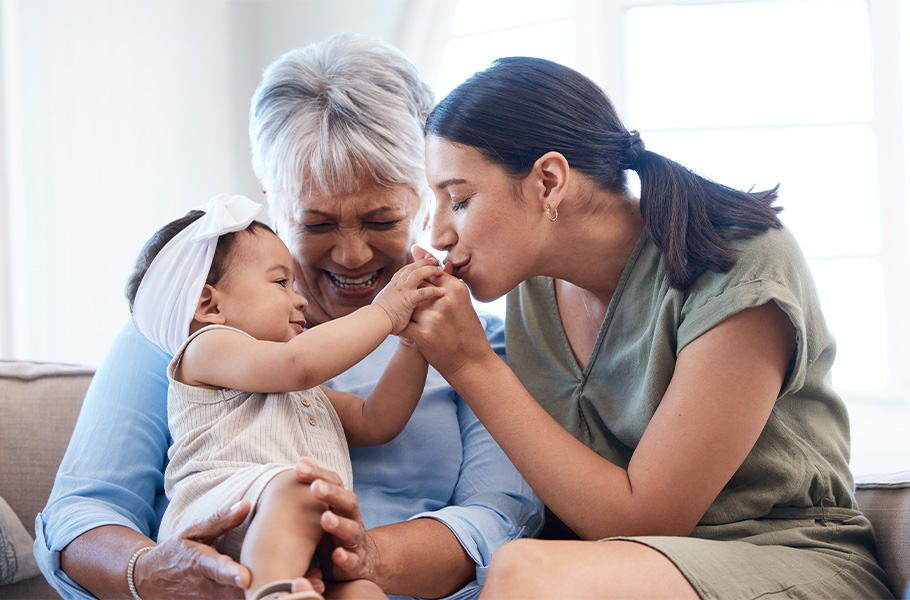 Make sure they have food available. This is an important one! Make sure children have food available, and if they are old enough, let them know what that food is. Be sure to tell the nanny any allergies or restrictions children may have.
Do a bedtime routine. Routines can help children with executive function skills and managing anxiety. Even when the nanny isn't watching your child, keep up a bedtime routine. This will make going to bed and staying asleep easier, as well as doing tasks throughout the day. Make sure to tell the nanny the details of the bedtime routine so they can stay consistent with what you have been doing. This should also include any comfort items like a blanket or stuffed animal your child sleeps with.
Have your child pick some activities they want to do. Include your child in the process! Ask them what they'd like to do with their nanny, such as certain activities or games. Consider letting your child do a special activity with the nanny such as going out for ice cream, walking to the park, etc.
Set some rules. One of the hardest parts of a nanny-child relationship is setting rules for your child to follow. These rules may include bedtime, safety rules, feeding, and other important activities. When you set rules, be sure to tell both the nanny and your child. This may help to reduce any resistance they're feeling.
Remind your kids they can talk to you. Your child may end up spending a lot of time with their nanny or caregiver. Remind your child that they can tell you anything about their nanny, especially if they feel scared. Most of the time, children are just adjusting to having a new person in the house! But it's still important to let your child know they can tell you how they're feeling.