"Very glad I took this course! It explained things step-by-step, from what Tummy Time is to tips. I especially enjoyed learning from the videos and liked all the helpful tips provided."
Looking for self-paced, online classes to help with baby's development? Look no further!
Become a Tummy Time expert! This Pathways.org Tummy Time online course is your child development guide to helping baby hit milestones – from lifting the head to getting that first roll. With activities approved by licensed therapists and step-by-step video instructions from a veteran baby therapist with over 45 years of experience, you'll be continuing learning about baby while also seeing how much fun Tummy Time can be! Perfect for parents, grandparents, and all caregivers of children under 6 months old, this infant care class is the answer to all your questions and more.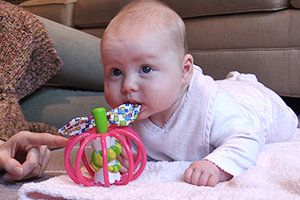 Included in this course:
Tummy Time facts and videos that help baby meet milestones
Fun and easy tips and games everyone can do inside and outside the home
Tummy Time abilities by age (weeks to months)
Ideas to help baby strengthen core muscles and make Tummy Time easier
"Different methods and activities parents can do to encourage different forms of Tummy Time—not just placing baby on the floor!"
Check out what others are saying about the course:
I found this course easy to understand and it allowed me to learn making small adjustments to a Tummy-Time routine can make a world of a difference to an infant's ability to learn to like and become accustomed to increasing their time on Tummy-Time and actually enjoying it!
Super helpful, especially for a first time mom. Great tips, and easy to understand with visuals.
I would definitely recommend the tummy time course to other parents, the information provided is concise, easy to follow and most importantly empowers parents to implement this into the home environment. This course provides activities to equip parents with the skills and confidence to engage baby daily and see the benefits of this. Thank you Pathways for a wonderful resource.
Stand out features:
On-demand, self-paced infant care course that you can take anytime, anywhere.
Simply pause and continue from where you left off when you log back in.
Applicable with all devices, from smartphones to laptops.
You will learn:
What is Tummy Time and why is it important? Discover how it impacts your child's milestones and progression.
How to do Tummy Time and keep baby engaged.
Factors that have contributed to a lack of Tummy Time.
What should Tummy Time abilities look like by age?
When do babies learn to roll tummy to back?
The best toys for Tummy Time, including how to use them.
How to play Tummy Time games with baby.
How Tummy Time can help prevent certain medical conditions.
How to incorporate Tummy Time into your daily routine.
Different ways to strengthen baby's muscles to make Tummy Time easier.
How to get help if you continue to have Tummy Time questions and concerns.
Watch a demo of the course here:


Receive Your Certificate!
After taking this self-paced, online course and completing a quick knowledge check, you'll receive a certificate acknowledging you are a Tummy Time expert!
Please note access to this online course will expire 30 days after purchase. Please email academy@pathways.org with any questions or concerns.