Go Back
Freedom in Play: Testing Boundaries During Play Can be a Good Thing for Your Child
As a parent or caregiver, you probably look for all the ways to lessen risk while your child plays.
You may often catch yourself saying things like "Be careful!" or "Don't do that!" because you're a good parent and you just want your little one to be safe at all times.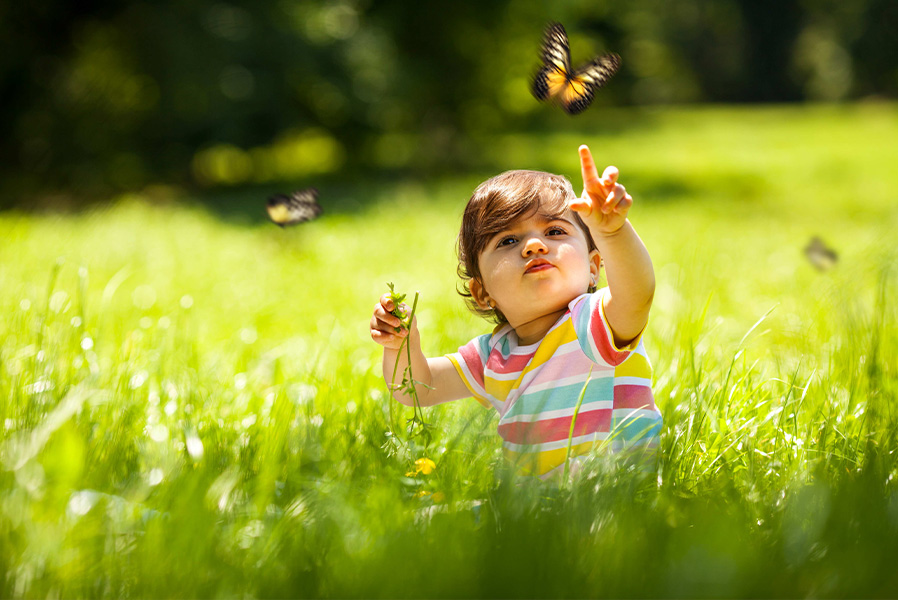 Some emerging research shows that allowing children more freedom during playtime is actually a good thing! It's often called "risky play" for toddlers and children, and it could be helpful in their development. This type of play can help with executive function, self-confidence, independence and resilience for children of all ages. It encourages the use of problem-solving skills to make something safer, and pushes children into a new situation that they must figure out.
It makes sense to think more freedom during play could lead to injuries or other dangers. But when done right, research shows this type of play may actually help reduce the risk of injury for children. By engaging in this type of play, children figure out ways to make an unsafe situation safer, which can reduce risks in the future.
Play is a great opportunity to help baby learn and create new neural pathways! Just like their body, baby's brain is constantly growing and developing. Take advantage of baby's neuroplasticity during playtime!
What does more freedom in play look like? Remember, it doesn't mean unsafe. It should gently push children out of their comfort zone, but it shouldn't put them in harm's way. It's always important to think about your child's age and abilities. For example, risk-taking for a toddler may be climbing on a rock, while for a slightly older child it may be climbing a tree.
Here is an example of risk-taking in play:
When children play outside, they may encounter different situations in nature. They may come across a bush with thorns. Rather than telling your child to stop or get away from the bush, you can let them observe it and possibly even try lightly touching it, so they learn more about what the bush is and know how to avoid it.
Another example for older children:
When children are learning to ride a bike, you may want them to go at an even pace. To give them more freedom, allow them to play around with their speed (with protective gear on). They can try different speeds and learn how to control their bike.
Freedom during play can also come from:
Higher heights, such as climbing trees or structures.
Higher speeds, such as running quickly.
Playing with real tools or other real adult objects. Remember to make sure the tools function properly and are appropriate for a child. For example, if you are letting a child use a real shovel but the shovel has a sharp, rusty handle, then it may be best to choose a different object.
Interacting with natural elements like bugs and plants under supervision.
Wandering or hiding somewhere.
When allowing children more freedom during play, think about your child's abilities. Every child is different. Freedom during play may look different for them, but they can still benefit from getting out of their comfort zone and learning how to make situations safer!
How can you encourage more freedom during your child's play time? This means parents and caregivers may need to give baby some space to play and explore. Some of the ways to encourage this type of play are:
Try something other than "Be careful!" It's great to look out for your child's safety, but when they are told to stop or be careful, they may not learn why they should do that. Instead of telling children this, try:
Making them more aware of their surroundings. Help them notice what's around them instead of telling them not to do something. For example, "Do you see the bush there?"
Encouraging problem solving. Suggest children try a different method to accomplish their goal. For example, "Try using your feet to climb."
Asking questions. This can also promote problem solving. Ask things like: "How will you get up there?" or "What will you do if you need help?"
Make time for play! It sounds so simple, but with homework and other activities, you may need to pencil in time for play! Make sure children have playtime every day, including unstructured play where they can be creative and explore.
Provide your child with a place to play on their own. This doesn't mean unsupervised play (especially if children are younger), but it's a place where you can watch them while also getting out of their way. This may be a park, your backyard, or an indoor gym or play room.
Want to learn more about baby's development and track their milestones?